Travelling is simply the best.
Hello everybody,
I'm Irina from Valencia, Spain, a girl full of passion as an accessible travel blogger and pleased to be an ambassador for Handiscover. Let me introduce myself a little bit and explain to you why I started my adventure with the accessible tourism.
I love travelling, know new people, new cultures, enjoy the food, see something new every day. For me, discover every corner of the planet is an amazing experience that I would like to share with you.
I began to work for the tourism industry in 2007 at the airport as a ground staff. After this, I worked as a flight attendant for five years. It was during my last year flying when I decided to make a change in my life and open a travel agency specialised in accessible tourism.
Why accessible tourism?
Maybe you are asking yourself what happened that year that made me take that decision. Well, I started to travel with mum and my aunt, who is a wheelchair user. I have always been very close to my aunt. Since I was a child, I used to deal with a person in a wheelchair.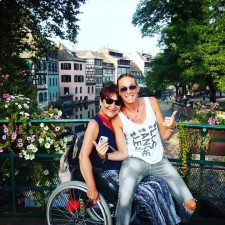 Our first trip was to Marrakesh. I realised here how complicated it could be for a person with reduced mobility to enjoy a city without a proper accessibility.
I remember that trip with a lot of love. We really enjoyed it, and we laughed a lot, but it wasn´t very accessible. We found some inconveniences as a restroom with bath at the hotel, no adapted taxis, steps everywhere, destroyed streets, etc. And one of the most important things; we didn't find information about that before to go. Fortunately, my aunt can stand up a little bit, and we took the manual wheelchair. So, we could see enough places, but not all that we wanted. The three of us learnt a lot during that trip, especially to plan the journeys before to go (or at list, get some previous information).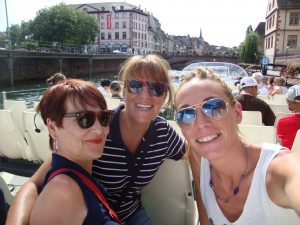 After that trip, I took the desition to make travelling easier for people with disabilities. I did some courses on how to make accessible holiday packages and how to assist customers with special needs. I also began to study Spanish sign language. And of course, I kept travelling with my mum and aunt to other destinations more accessible as Genoa, Strasbourg, Luzern, Bern, and more.
Finally, in 2013 I opened a travel agency specialised in accessible tourism. I was so happy to help people to enjoy their trips and get a good and fully accessible product for them. I did a lot of contacts and I reviewed a lot of services as accommodations, museums, transports, activities, etc. Two years later I closed the agency because of the crisis in Spain.
What is next?
In 2017, I decided to continue working for the accessible tourism. I started sharing my travel experiences and reviews in my blog www.accessitrip.com, where I write about accessible destinations, activities, adventure and more.
Currently, some business or governments invite me also to participate in presentations, activities or trips to help them to promote the accessible tourism as a professional agent.
I hope you enjoy my posts, where I will give you some travel tips, information about destinations around the world and much more. I love travelling and I would like to make you feel the same in each word.
So, dear friends, as I always say…DON´T STOP TRAVEL 😉